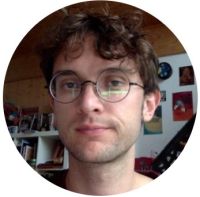 Florian Pascal is a young electroacoustic musician. After studying classical piano at the Lille Conservatory, he preferred to move towards a more creative field in 2012. After having been a pianist in various rock bands, he was involved until 2018 in the acousmatic composition training at the Royal Conservatory of Mons.
This passage into the electronic and experimental spheres had a lasting influence on him and led him to the practice of acousmatic composition and live electronic.
In his music, he likes to use the tools of experimental practices to create sounds that are crunchy and funky, festive and popular.
He also likes to use pop references, rhythms and danceable electro sounds in his experimental and acousmatic compositions.
He likes to work in a team and be like a chamber music accompanist, through compositions for theatre, for installations or for the image. His work and knowledge are transmitted through workshops and fun activities that he conducts in particular within the influx association (Ohain, Belgium) and the association around current rhythms (Roubaix, France).
Source: Florian Pascal — Electrodoc — Musiques & Recherches (musiques-recherches.be)
Compositions performed at a concert FeBEM (since early 2019):
| | |
| --- | --- |
| Compositions | Concerts |
| Rebondi | 2018.11.06, FeBeME-BeFEM @ ARTS2 / Abel Dubois |
More info: