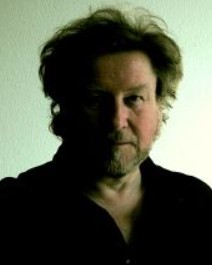 Biography
Paul Adriaenssens was born in Antwerp in 1952. Paul Adriaenssens is completely self-taught.
At 15, Adriaenssens started experimenting with tape recorders, concrete sounds and montages and taught himself to play the flute and other wind instruments.

In '75, he got in touch with the Studio for Experimental Music and became a collaborator as composer and performer. Between '76 and '83, he evolved from acoustic over electro-acoustic and live electronic to first analogue and later digitally generated and computer-controlled compositions. He experimented audiovisually with slide sequences since '80 and with digitally processed video since '89. Central to this was a parametric treatment of complementary aural and visual elements. In the process, the music was largely digitally generated under programme control. On several occasions, he incorporated the audiovisual material into an installation.
Since '75 he has -especially with the SEMensemble- given dozens of concerts at home and abroad, including for BRT3. In the audiovisual field, he collaborated in and/or was programmed at such events as Fabrik88, Metro89, Black Box, Bunker /Antwerp, Architecture as neighbour, Tetraëderfestival, Brul /Ghent (Belgium), Audiovisual Experimental Festival /Arnhem (Netherlands), Mediawave /Györ (Hungary), Videofestival Wroklaw (Poland), Unicum Technologico /Portici, Artmedia IV /Salerno, Studio aperto and Dissociazione Culturale /Napels (Italy), El Ojo Atomico /Madrid (Spain), Catalyst Arts /Belfast (Ireland), 60×60 (US), video festivals Fukuoka, Tokyo, Kyoto (Japan).
He received (audiovisual) composition commissions from the Cultural Council of the City of Antwerp, the Masereel Fund, Stichting Logos, Muzikon, Studio aperto, among others. He collaborated on the publications Documenta Belgicae – Music in '85 and Troopboek in '93.

(source: https://muziekcentrum.kunsten.be/identity.php?ID=135591 )
Compositions performed at a concert FeBEM (since early 2019):
More information on Paul Adriaenssens:
See